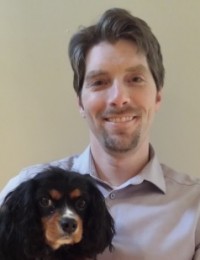 Veterinarian & Owner
Dr. Hans is the owner and manager of the Lakeview Animal Hospital. He took over the practice in July 2019, become only the second owner in Lakeview Animal Hospital's almost 30 year history! (And don't worry, Dr. Scott is still with us – she's enjoying looking after patients without the responsibility of ownership 🙂
Instead of seeing appointments, Dr. Hans works closely with the Lakeview Animal Hospital team to keep the clinic running smoothly and ensure that you get the same great care as always.
Dr. Hans graduated from the Ontario Veterinary College in 2001 and has extensive experience across many aspect of small animal veterinary medicine, including working as an ER veterinarian, practicing as an associate veterinarian, establishing and running an animal shelter veterinary clinic, and teaching at the Ontario Veterinary College.
When not in the clinic, Dr. Hans is an avid hockey and Ultimate Frisbee player, and likes to dabble in photography. He spends his free time with his wife, specialist veterinarian Dr. Jinelle Webb, his daughter, and 2 cats and a Cavalier King Charles Spaniel named Homer (D'oh!).