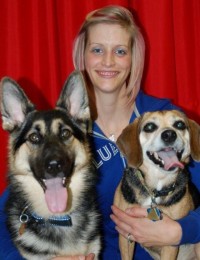 Registered Veterinary Technician
Education: Ridgetwon College
Robyn graduated from the veterinary technology program at Ridgetown College in 2004 and soon after, attained her Registered Veterinary Technician status. She joined the Lakeview Animal Hospital team in July 2005 and brings a variety of expertise to the practice including emergency and TLC skills. Robyn is currently our head technician who manages a small team which consists of another RVT, technician/veterinary assistants and kennel staff.
Robyn's love for animals has allowed her and her husband to adopt two amazing dogs. Daisy is a rescued puggle and Chief is a rescued shepherd/husky cross who Robyn brought back with her when she went up to James Bay with IFAW for a spay/neuter clinic.
In Robyn's spare time she enjoys cooking/baking, the outdoors, spending time with her family (which can consist of throwing Daisy the ball for hours), and successfully selling Tupperware. Robyn is also been very busy in the animal rescue organization field; you can always find her collecting supplies and making sure that these rescues have what they need. Robyn is currently working with IFAW Northern Dog Project as one of their surgery technicians, Save Our Scruff as a key member to their vetting team and several Mexico rescues.